Our Holistic Process
What We Do
Our Holistic Process
Like most high-net-worth individuals, you've probably already done some planning for your estate, business or family, but you're still unsure how it all fits together. You wonder if there is anything else you can do, or something you may have overlooked. With our help, you can stop worrying and start enjoying the life you've worked so hard to achieve.
At Maus and Associates, we created our Integrated Legacy Process™ to help people like you develop and implement an integrated plan to achieve your desired legacy. Our process helps you:
Think through your business succession, wealth preservation, and asset allocation issues.
Affirm your family legacy by examining and removing the dangers present in any family environment.
Realize a clear vision of your available opportunities through a deeper understanding of your family strengths.
The Integrated Legacy Process™ is divided into three distinct stages that focus on getting to know you, developing your strategy, and implementing your strategy.
Stage 1: Assess your current situation and set goals, both personal and financial.
Stage 2: Develop strategies for your Integrated Legacy Plan™.
Stage 3: Develop an Integrated Legacy Team and implement your plan.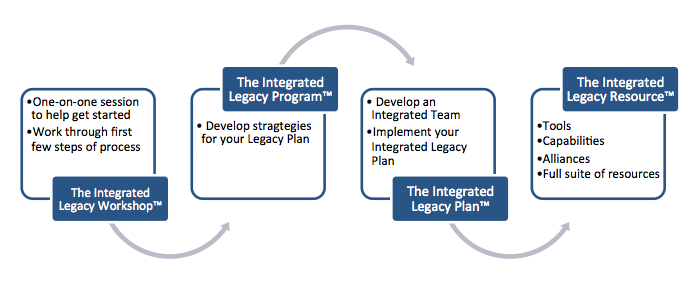 For information about The Integrated Legacy Process™ call 214-423-2339.